UHY Study - Canada holds the line on personal income taxes
Monday, November 5, 2012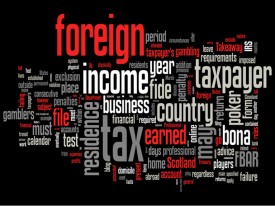 (Nov 5, 2012) The gap between Canada and the high tax Western Europe countries grows larger, while Eastern Europe, BRIC's and Asia-Pacific offer lowest taxes ...
The gap between personal taxes in high-tax and low-tax economies has grown larger over the last year, according to research conducted by UHY, the international accounting and consultancy network.
UHY's research indicates that while Canadian personal income taxes remained stable over the past year, major European economies imposed an average tax increase of  $1,784 USD on those earning $200,000 USD, compared to an average $266 USD tax cut in the BRIC emerging economies.
UHY tax professionals studied data in 26 countries across its international network, including Canada, all members of the G8 and the emerging BRIC economies. UHY calculated that the basic 'take home pay' of a single, unmarried employee after income taxes and employee social security contributions for a range of salaries.
UHY concludes that the broadening gap in personal taxes has been driven by struggling European economies raising taxes to cover their budget deficits. UHY warns that this could make European economies less competitive, compared to other low tax economies.
Ladislav Hornan, chairman of UHY, says: "The personal tax gap between Western Europe and the rest of the world continues to grow larger. The distinction is sharp. Western European countries make up the five highest taxing economies in almost every tax bracket we looked at. Countries like China, Estonia, and Brazil consistently had the lowest tax burden."
"Countries like France or Italy have had relatively high taxes for some time, but this year has seen other debt-laden European economies join them."
Ladislav Hornan adds: "The big European economies need to be very careful. They are putting a lot of pressure on individuals. There is a 'brain drain' risk for some countries with high personal taxes, particularly amongst internationally mobile high earners. Losing talented workers and the taxes they pay will make it even harder for countries to close deficits."
Two of the countries imposing the five highest tax rises between 2011 and 2012 for those earning $200,000 USD were G8 countries: the US and France.
There were six countries to take over 50% of incomes, all in Western Europe, and all for incomes over $1,500,000 USD. Those countries were: France (54% income taken); Italy (52%); Ireland (52%); the Netherlands (51%); Spain (50%); and the UK (50%). France recently announced plans to introduce a dramatic marginal 75% tax rate on $ 1.3m+ USD (EUR 1m+) incomes from 2013.
Russia was the most consistently low-tax economy, appearing most often in the five lowest taxing economies across the pay brackets. Italy and France appeared most often in the five highest taxing economies.
Nikolay Litvinov, partner of UHY Yans-Audit LLC in Russia, a member of UHY, comments: "Russia's 13% flat rate of income tax makes it very competitive compared to rival economies, especially at the higher end of the income scale. Russia is consistently one of the cheapest places to live in terms of income tax. These low tax rates may help convince young and entrepreneurial Russians to stay in the country, and they may even tempt expats to return."
Jonathan Levy
, Partner, UHY Victor in Canada, a member of UHY, observes:
"Canada seems to have found the balance between a progressive and competitive tax system. Unlike several other major industrial economies, Canada doesn't have a huge debt burden to complicate things. Low taxes are offered for the lowest earners, and the taxes on high earners are still generally lower than other comparable countries."
"The relatively low tax burden reflects the strength of the Canadian economy."
UHY Victor LLP is a member of UHY, an international network of independent accounting and consulting firms with offices in major business centres throughout the world.  Further information can be found at
www.uhyvictor.com
.
For UHY, the international network
Nick Croysdill or Nick Cosgrove
Mattison Public Relations
News
(Oct 23rd, 2017) International accountancy network UHY releases its 2017 "Global real estate...
(June 14, 2017) Generally transactions becomes "statute barred" in Canada after three years and...
(April 10, 2017) Canadian capital investment lags the world average, putting future Canadian...
FAQ
What are the advantages of the Canada Revenue Agency (CRA) and Quebec Minister of Revenue Voluntary Disclosure Programs?
Disposition of taxable Canadian property - what are the tax withholdings for a non-resident sale of Quebec real estate?
What is the difference between an audit, a review and a compilation engagement?