UHY Capability Statement 2014
Friday, November 29, 2013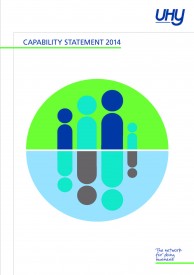 (Nov. 29, 2013) UHY Victor introduces UHY Capability Statement 2014 ...
Click here for 2014 capability statement
This year's edition includes 8 case studies, with a range of international clients across a variety of market sectors: engineering and industrial, education and training, healthcare, leisure, media and communications.
The UHY 'Capability Statement 2014' offers insight into the range of work undertaken by UHY VICTOR in conjunction with other UHY member firms.
To learn more about the services and capabilities that UHY VICTOR can offer, please contact Jonathan Levy at jlevy@uhyvictor.com.

About UHY International
Established in 1986 and based in London, UK, UHY is a network of independent accounting and consulting firms with offices in over 270 major business centres in 86 countries. Our services and teams are tailored to suit the culture of each client including publicly listed corporations, large and medium-sized companies, privately owned businesses, not-for-profit and public organisations. Each member of UHY is a legally separate and independent firm. For further information on UHY, please visit www.uhy.com.
Download:
UHY Capability Statement 2014
---
News
(Oct 23rd, 2017) International accountancy network UHY releases its 2017 "Global real estate...
(June 14, 2017) Generally transactions becomes "statute barred" in Canada after three years and...
(April 10, 2017) Canadian capital investment lags the world average, putting future Canadian...
FAQ
Should a student file a personal income tax return?
FBAR - what should a non-compliant American do?
What are the new cheque-printing standards?