Canada's tax burden unlikely to rise, UHY expert says
Tuesday, July 10, 2012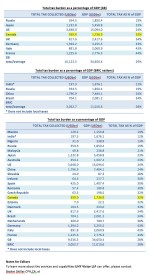 (July 10, 2012) UHY professionals studied tax and GDP data for 23 countries across its international network, including the G8, as well as key emerging economies, including the BRIC nations.

Brahm Shiller, partner at UHY Victor LLP in Montreal comments:  "While Canada's tax as a percent of GDP is close to the G8 average, it is 8% higher than that of the US, its largest trading partner and closest neighbor. The higher Canadian taxes are mostly due to Canada's  public  funding of healthcare, higher education and other social programs. The gap with the US and the Conservative federal government make it unlikely that Canadian tax rates will rise significantly in the next few years."

In contrast to Canada, many G8 nations have raised taxes over the last few years as governments have made efforts to reduce their debt levels. A higher tax burden, however, is often identified as an important factor inhibiting economic growth, according to UHY, the international accounting and consultancy network.

John Wolfgang, chairman of UHY comments: "The comparison between the Eurozone countries and the BRIC and other Western nations is extreme. Generally speaking, the lower tax rate countries are experiencing higher growth, while most of the lower growth countries have higher tax rates."

Among the 23 economies studied, the country collecting the lowest amount of tax as a percentage of GDP is Mexico. Mexico collected just 10% (see below) of GDP in tax (USD $120 billion in tax from a GDP of USD $1,155 billion).

The study also shows that, among the G8, there is a wide gulf in the relative value of social security contributions collected as a proportion of total tax revenues. For example, 63.5% of all tax (USD $779 billion) in France is social security whereas, at the other end of the scale, specific social security taxes comprise just 18.4% (USD $151 billion) of all tax in the UK.
Download:
UHY Release: Canada's tax burden unlikely to rise expert says
---