2012 Canada-US Cross Border Tax Guide
Monday, January 30, 2012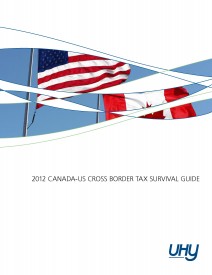 (Jan 30, 2012) This guide provides an update of tax issues and trends involving the US and Canada.

The twelve-page 2012 Canada-US Cross Border Tax Survival Guide covers issues that many Canadian and US companies, individuals and estates face as they conduct transactions straddling the border.
Jonathan Levy
, who leads the
Canada US Tax Team
, notes that "While treaties have facilitated US - Canada interactions, the tax considerations related to transfer pricing, corporate structures, withholdings, among others are very complex. In addition, tax law changes and legal rulings continuously alter the tax planning landscape."
Topics covered in this guide include:
------------------------------------------------------------------
US Canada Transfer Pricing
Foreign Asset Reporting
FBAR Issues
FATCA Issues
Hybrids
US LLC's in Canada
Canadian ULC's
Tower Structures
Withholding Taxes
Canada - Regulation 102 and 105 issues
US Withholding Requirements
Real Estate
Americans Owning Rental Property in Canada
Canadians Owning Rental Property in the US
Estates and Trusts
US Estate Tax
Canadian Trusts
Renouncing US Citizenship
Expatriates
Miscellaneous
Change in "Taxable Canadian Property"
Permanent Establishment Definition
Late Filing Penalties
Sales Tax in Ontario and British Columbia
US Passive Foreign Investment Corporations ("PFIC") Rules
Other US Reporting Issues
Other Canadian Reporting Issues
About UHY Advisors, Inc. and UHY LLP
UHY Advisors, Inc. provides tax and business consulting services through wholly owned subsidiary entities that operate under the name of "UHY Advisors." UHY Advisors, INc. and its subsidiary entities are not licensed CPA firms.
UHY LLP is a licensed independent CPA firm that performs attest services in an alternative practice structure with UHY Advisors, Inc. and its subsidiary entities. UHY Advisors, Inc. and UHY LLP are US members of Urbach Hacker Young International Limited, a UK company, and form part of the international UHY network of legally independent accounting and consulting firms.
"UHY' is a brand name for the UHY international network. Any services described herein are provided by UHY Advisors and/or UHY LLP (as the case may be) and not by UHY or any other member firm of UHY. Neither UHY not any member of UHY has any liability for services provided by other members.
UHY Victor LLP
Montréal, Canada
+1 514 282 1836 x275
McGovern, Hurley,
Cunningham, LLP
Toronto, Canada
+1 416 496 1234
UHY Advisors
Southfields, MI
+1 586 254 1040
UHY Advisors
New York, NY
+1 212 381 4700
Download:
2012 Canada US Tax Survival Guide
---