2017 Canada US Cross Border Tax Guide
Tuesday, January 10, 2017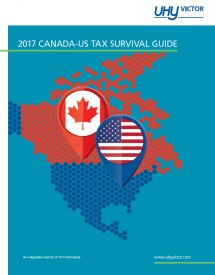 (Jan 10, 2017) This guide provides an update of tax issues and trends involving the US and Canada.
The 2017 Canada US Tax Survival Guide covers issues that many Canadian and US companies, individuals and estates face as they conduct transactions straddling the border.
Download:
---
FAQ
What are the advantages of the Canada Revenue Agency (CRA) and Quebec Minister of Revenue Voluntary Disclosure Programs?
Should a student file a personal income tax return?
Tax Cuts and Jobs Act: IRC Section 965 "Repatriation Tax" and the new GILTI applies to Americans who reside in Canada and own Canadian Corporations