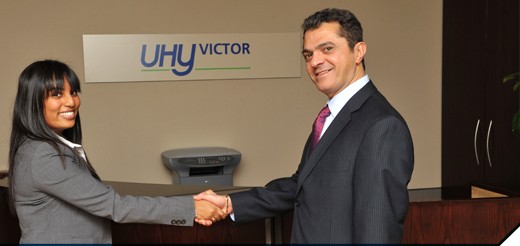 Services
Please visit our service pages using the sub-menu on the left, or the links below.

Our team also has specific accounting expertise to assist you in the following fields:

CURRENT / RECENTLY COMPLETED PROJECTS
UHY VIctor chairs the UHY Canada US Tax Team (CUTT).
Guided a client setting up multiple IPP's (Individual Pension Plans). [lead partner: Sylvie Plante]
Structuring a US corporate expansion into Canada. [lead partner: Jonathan Levy]
Served as the binding arbitrator to resolve a commercial dispute between the purchaser and the seller of a private company. [lead partner: Edward Victor]
Consulting with a pharmaceutical company on a significant R & D claim. [lead partner: Brahm Shiller]
Advised a family on settling a complex estate. [lead partner: Frank Leboff]
Successfully objected and overturned a number of Notices of Reassessment from Revenue Quebec, which added alleged undeclared investment income. [lead partner: Ken Shemie]
Planning for a US beneficiary of a Canadian trust, including the incorporation of an Alberta Unlimited Liability Corporation (AULC).
Structuring and set-up of a Pacific rim purchasing corporation for a Canadian importer.
Structuring of a merger (including financing) for a Montreal and Toronto wholesaler.
Assisting a successful entrepreneur with the sale of his company.
Tax planning for a foreign investor selling Canadian real estate.
News
(Dec 10, 2012) Canadian federal and provincial sales taxes are slightly above the average...
(Nov 5, 2012) The gap between Canada and the high tax Western Europe countries grows larger,...
(Oct 31, 2012) Starting Jan 1, 2013, the Quebec Sales Tax (QST) will be harmonized with the...
FAQ
Disposition of taxable Canadian property - what are the tax withholdings for a non-resident sale of Quebec real estate?
What are the benefits of holding life insurance in a company?
Should a student file a personal income tax return?